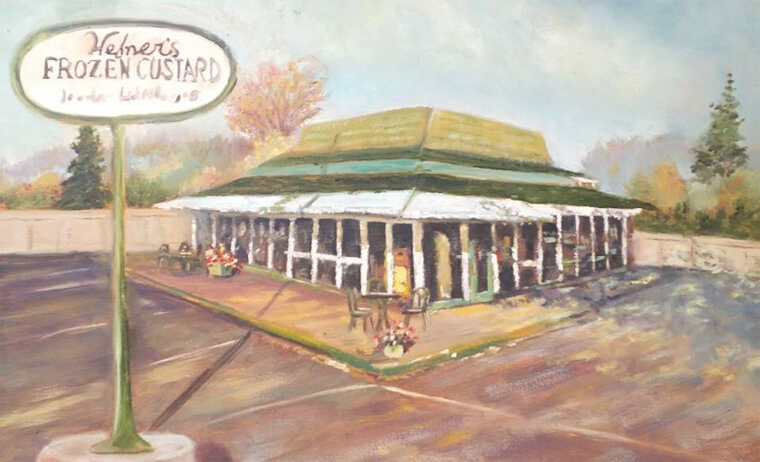 The Scoop on Hefner's Frozen Custard
Hefner's Custard opened its doors in 1995 in Cedarburg, WI. Founder Tom Holubowicz, a product of Milwaukee's north side, spent his entire adult life working in the frozen custard business. Tom had an immense passion for the joy custard brought to the people he served. He started his custard career working at the original Kopp's Custard learning his trade under the one and only Karl Kopp.
He later moved to Green Bay where he continued in the custard business, working at local favorite Storheims. After years of working for others, Tom decided to open his own restaurant, staying true to his custard roots.
In search of the perfect location, Tom moved back to the Milwaukee area and fell in love with the beautiful community of Cedarburg, WI. It was there he found a custard stand named Tim's Custard up for sale, and with the help of his parents Ivona and Richard, the legacy of Hefner's Custard began.
Tom chose the name Hefner's as an homage to his mother Ivona's maiden name, Haeffner. To make it easier for customers to say and remember, he changed the tricky spelling to Hefner's, and the rest is history.
Over the next two decades, Hefner's became a cornerstone in the Cedarburg community. While Hefner's is known for its mouthwatering jumbo burgers, wonderfully creamy custard and inventive flavors, it also became loved for its community involvement. Tom, an avid dog lover, made a point of supporting animals in every way possible. Over the years, Tom raised thousands of dollars for the Ozaukee County Humane Society and donated funds to improve Muttland Meadows Dog Park. Tom also used space in the Hefner's parking lot for the Humane Society to host puppy adoption events and even helped some puppies find their forever homes.
Tom had a knack for planning lively community events including corn roasts, band nights, car shows and many other creative affairs that helped bring the community together. Tom's favorite part of running Hefner's was handing custard cones to children, always saying their smiles made him "feel like a millionaire."
After his passing in 2017 Tom's son and daughter, Joe and Rachel, took over as second generation owners. With the love and respect for what their father had built, they've made it their mission to continue his good works in both the kitchen and in the community. Additionally, Joe and Rachel have made a multitude of renovations to ensure the continued integrity of the restaurant, including a new floor, roof, chairs and updated bathrooms.
Hefner's general manager, Jen Jaeger, has been with Hefner's since the very beginning – even when the building was still called Tim's Custard. Jen's continued efforts helped shape Hefner's into the restaurant it has become today.
Since 1995, Hefner's has become a cornerstone of the Cedarburg community with a delicious menu, renovated interior and loyal customer base. With many years of jumbo burgers and creamy custard to come, Joe and Rachel look forward to continuing their father's legacy of bringing joy to the Cedarburg community.